First Annual Crops in silico Symposium and Workshop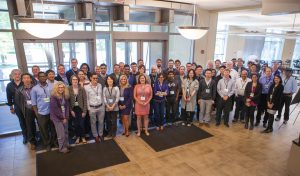 The first annual Crops in silico Symposium and Workshop was held in May 2016 with the goals of sharing research from isolated efforts and organizing collaborative thinking toward generating virtual crops.
The aims of the Psi Symposium & Workshop were:
Learn from similar modular multiscale modeling platforms that Psi can emulate;
Exchange information on the latest developments in plant modeling from molecular to system levels;
Map a course to achieve plants in silico by creating a community framework model; and
Build a community of researchers from different domains of expertise.

---

   

---

Primary support for this event was provided by the Olga G. Nalbandov Lecture Funds at the University of Illinois at Urbana-Champaign. Other financial contributors to the Symposium and Workshop were the Carl R. Woese Institute for Genomic Biology (IGB); the College of Agricultural, Consumer and Environmental Sciences (ACES); the Department of Crop Sciences; the School of Molecular and Cellular Biology (MCB); the Department of Plant Biology; the Genomic Ecology of Global Change Theme at IGB; iSEE; and NCSA.